A NIGHT A THE WHISKEY AND BLONDIE-DEBBIE GRABS A FRENCH FRIES OR TWO....
Los Angeles in the years -the midish 70's about 1977-was a mecca for up and coming rock bands from every corner of the world. And L.A. was showcase city, in terms of people who could get you a record contract with the managers and lawyers that were always part of the deal.
There was the Starwood, The Troubadour (The Roxy was to come around in a year or two) there were underground showcases for punk and heavy metal bands in around Hollywood, not in the most savory of conditions but you were there for the music the energy the scene, the people so the setting was almost irrelevant, as long as the bands could plug in and had a stage-like area to play from.
As an aside- a few friends, a couple musicians and another a roadie went to see a punk bands in the Hollywood hideaways just off Hollywood Boulevard where the Heart of Hollywood was truly located.
We arrived, and we were more of the rock scene look compared to the punk scene and various attire which consisted of safety pins and leather but was evolving to tattoos and more outrageous garb, we went for the music and we we outcasts most of our lives, so we may have cracked a few jokes but realized it was another form of music. It was loud and there were some mosh pit activity which we steered clear of, part of the punk scene was being rude, that being said, it is a observation not a judgement, just more obvious than hidden hostiles, and to a degree all in fun. We got some weird look due to our attire, our haircuts and styling and too-being maybe several years older than most, but that being a two-way street we took it in stride.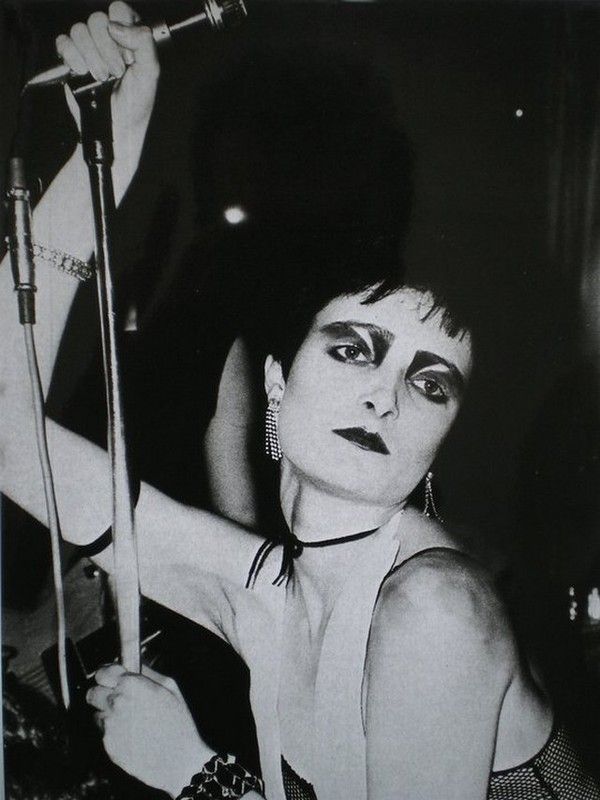 I had to go to the can and one of the other guys came with me. Glen, we wandered a bit thru the torn apart building, as this was in the basement of a building and had the look of being war-torn, probably from several other punk affairs. The bathrooms were separate from the women, which was a relief (we both could envision a fight ensuing somehow)
The bathroom was made for public use as there were stalls and several urinals, none of which had been the object of any cleaning session, but usable and didn't appear to have the plague oozing about.
We were at the sinks washing our hands, someone had actually put paper towels in the dispenser so as we were drying our hands-a couple of younger punk-rockers came in....
we assumed to show their massive angst, they kicked one of the urinals for awhile and then broke off a tiny piece and felt their young angst mission was accomplished. Well, needless to say, glenn looked at me and said, they wanna see some damage so without any further ado he, with his own angst pull out the 3 toilets with the water flowing freely from different broken and gnarled water pipes....the water was starting to flood and we headed out....we got to the other two and said time to exit stage left before the water started to reach us......and we went out for some coffee and then to another club but more in west hollywood rock club direction.
Back to to the story...so the main showcase and classic was the Whiskey (a-go go) a smaller venue, with a balcony and tables and booths downstairs and you could eat or drink or do both while the bands played. Most down time "intermission" was alot of talking to old friends, meeting new friends, for musicians people in the record business too as well as musicians. And time for the lads to meet the ladies and in the age of stereotypes being broken, ladies meeting guys (some were groupies but that was a large percentage), Get a drink or some food, have a smoke (when you could smoke in clubs) and you could get your hand stamped so you could leave and come back that evening at anytime, so you could go between clubs or do whatever came up at the time
Well I had gotten a call from Michael and he asked if i wanted to go to the Whiskey to see Blondie another Michael we knew knew Debbie and the band and would take us with him, he just want to get
our names on the guest list. Sounded like a plan and I was free that evening and thought it would be cool to see Blondie.
The Whiskey as I said was a showcase of many and just going to see the bands that night, you'd see or run into tom petty, Van Halen, the Motels, Missing Persons, ELO, the Babys-Cheap Trick, Joan Jett, Aerosmith, War to name a few, so in a way-it was so ordinary as to be barely noticed as anything earthshaking at all. And it was a fashion revue of the height of rock, a mixture of both English rock and American rock attire -generally for guys with a hint of punk-which was nothing compared to what the ladies put together created-the damaged fishnets or stocking became (one of the many things the fashion world took to make it's own) unique makeup take to cool avenues and hair done to even stun hairdressers. Glitter, satin, chiffon, unique meshes, gauze's,cool dresses seam-stressed by themselves into a unique art form
not to mention the own rock style of catwalk walk, too causal and so choreographed or just so natural and feminine and feline......
We picked up the other Michael and being early enough had a bite to eat and talked about some rehearsal sessions and when the recording was to happen for the first album and who was in town and the usual banter.
We then headed off for the Whiskey which was about 20 minutes away, barring the Sunset Stripe traffic and then the feat of finding a parking space. People were in line already
and we just went ahead, we all knew the bouncers and told them we were on the guest list, Blondies and sure enough,
we were let in then. There was the one booth that was in the center that looked straight at the stage, and we got that one, not sure if it had been reserved, but it did seem odd not one was sitting there.
a booth for four or pushing it six (although you may have to propose to someone in those tight quarters) so we sat comfortably...at first we ordered something to drink when the waitress came by who was the wife of a mutual friend of ours (someone in the motels i think) and i think i got an anisette in a snifter, as i didn't like beer or hard booze, and could sip on the sweet concoction without getting cross-eyed not sure what the others got. As we sat different people came by some i knew some new,one guy i think was from the Ramones- some guys in a band from England, whom i ran into at a later date, while taking a walk and we ended up having coffee together and were curious about America and Americans and we had a good chat, turns out they were in a group called the Babys, the singer was sleeping or he would have been on the walk too.
The lights started to dim and people either took or shambled to their seats or those who wanted to be seen being casually a minute or two standing around their table as the lights dimmed. It varied sometimes there would be several bands and the headliner. I believe Blondie was there alone and in New York-CBGBS had helped establish Blondie was was to play soon with another new York band-the Ramones.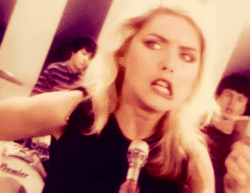 Blondie came on and did a whole routine, coming on with some outer wear, talking about cold weather (a joke for l.a.) then taking it off to show a small black mini dress and with tall black boots to drive some males insane.
Deborah Harry on stage for the Whisky crowd in 1977
The set was great and some tunes became standards to a degree in both the rock world and world in general. Stunning stage presence and Debbie knew how to work it well, the band was tight and had a great presence too.
Their set ended to a landslide of applause and another waitress came by and we ordered some french fries to snack upon. We were talking and this girl sat at our table out of nowhere and as we looked up it was Debbie, Micheal introduced us and she grabbed some fries to much on....she asked how was the set....and we all gave our answers....these were the days just before bodyguards seems to be everywhere....some band came over the whiskey's break music and she said she loved the band...who it was escaped me...said she had to get upstairs to the band room and thanked us for the fries...as she left we saw some guys just gawking at her, with no doubt in our mind what was probably floating thru them. A friend came over and sat with us and we ordered more to drink talked about the bands that played and on to other banter